High Accuracy Rotation Speed Dental Surgery Implant Motor
Product Detail
Product Tags

Advantage:
Powerful, safety and high accuracy.
with high speed micromotor.
compact, ergonomic, self- protection.
Motor:
Rotation speed 200r/ min-40000r/ min.
Input voltage DC30V.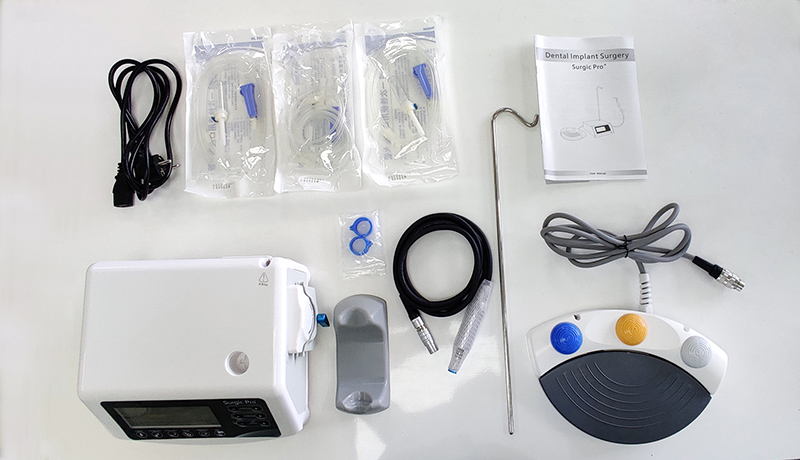 Specification:
*Control Unit:
Input power AC220v 50/ 60Hz.
Consumer power 400VA.
Water pump output 0mL/ min- 80mL/ min..
Fuse F3AL250V..
Product size 285x265x155mm.

Package include:
*Control unit;
*AC power cord;
*Foot control cord;
*Irrigation tube;
*micromotor with cord;
*coolant solution hanger post;
*handpiece stand;
Option:
Handpiece oil.
Implant handpiece 20: 1 with light or without light.

Features
Surgic Pro + Implant motor.
8 Program memory function.
5~ 60N·cm powerful torque.
200r/ min-40000r/ min Speed range.
Control unit with advanced handpiece calibration for torque & speed accuracy.

LINGCHEN dental offers advanced technology to greatly.
enhance clinical performance.
Shorter, Lighter and More Powerful.
Consistently Excellent Clinical Performance LED.
LED illumination helps the clinicians to focus more easily on the treatment area and contributes to precise surgery.

Clearer : LEDs generate natural daylight quality light which gives clearer vision when compared to halogen light.
Durable : LED light sources are longer lasting and more durable than halogen bulbs.
Advanced Handpiece Calibration
Use NSK Surgic Pro AHC to calibrate micromotor and handpiece to the rotational resistance of each individual handpiece prior to operation. AHC guarantees extremely accurate speed and torque for maximum safety during operation.

The Foot Control is user friendly and allows operation of all functions within the preset parameters without touching the control panel to avoid accidental activation of the micromotor outside the preset limits. The Surgic Pro/ Surgic Pro+ is certificated according to IPX8.
---
---
Write your message here and send it to us