Silent Dental Compressor with Air-Dryer Original design by Lingchen 2021
Product Detail
Product Tags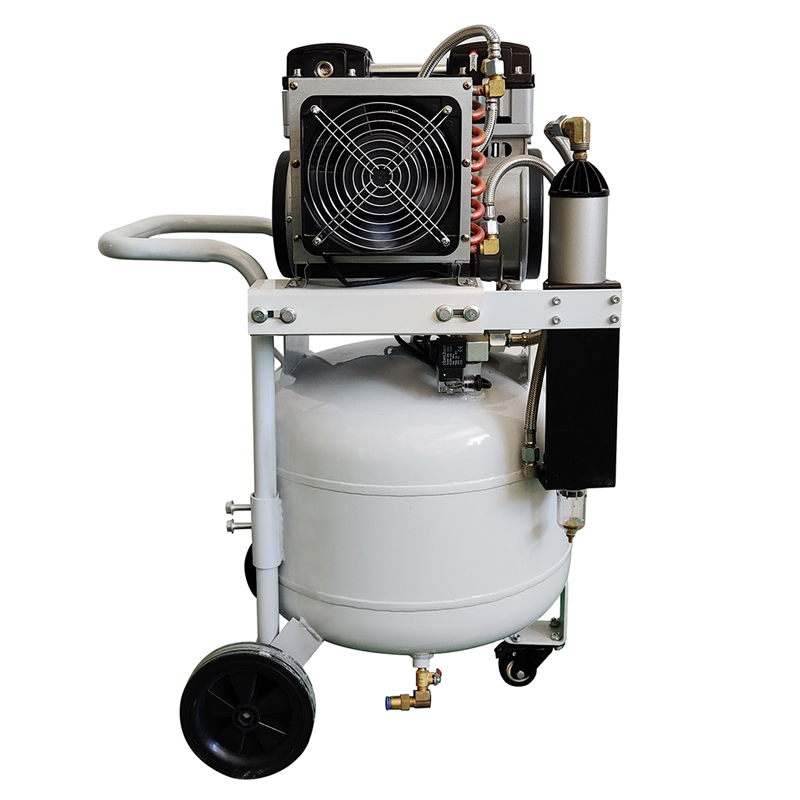 BUILT-IN AIR DRYER & CONDENSOR
LOW VIBRATION  NOISE LEVEL (55 - 58dB)
CAPACITY 2-3 CHAIRS
BUILT-IN AIR DRYER & CONDENSOR
Our compressor has become the standard for Europe and America. Most doctors have started to replace their old compressors which supply damp air which ruins filling with new technology.
Our Integrated cooling system is effective in the Summer to ensure continuous working conditions and moving away from excessive heat. In the Winter our compressor will deliver fresh air free of droplets and humidity.
This compressor employee an Automated Discharge that constantly empties the tank, which in turn protects the tank from overload and smooth continues operation. The system is made of copper making it resistant to high seasonal temperatures with low electrical usage.
 CAPACITY 2-3 CHAIRS
 1500 watts, 50-liter tank can handle 2-3 Dental Chairs at the same time.
*Why choose a compressor with an air dryer?
It has been proven during the installation of a dental filling too much water and humidity can damage and or reduce the life expectancy of a filling. This compressor can vastly improve the quality and efficiency of a dentists' work. With air-drying, and when the air is delivered from a 3-way syringe it is dry and will produce a high-quality filling. It is also a fact that orthodontists need clean dry air also. Without air-drying: Water reaches a patient's mouth and it is impossible to keep the tooth dry and install a quality filling because a 3-way syringe cannot keep a tooth dry.
(It should be noted, often a filter will be added to a normal compressor to attempt to keep the air dry but often these systems fail and are ineffective)
 In a normal compressor, water enters the tank and over time it will rust, this rust can enter the chair's tubing systems, clogging and creating problems down the road. This condition can become toxic and problematic for patients.
Dirty, wet, or unclean air can damage equipment. Some of the affected equipment impacted negatively by dirty air includes:
- 3/1 syringes

- Chair valves

- Delivery units

- Drills

- Handpieces

- Scalers
Moisture and heat from the compression of the air can create favorable conditions for the growth of microorganisms. if the compressed air is in direct contact with humans, hygienic or medical equipment, hygienic problems may arise. To ensure both the delivery of clean and dry compressed air Lingchen offers the compressor with an air dryer. This device can be very effective in the removal of water vapor in the air and bleed it automatically. The air is cooled before it enters the dryer by radiators equipped with fans.
 Our Lingchen compressor system makes for a more pleasant work environment.
This compressor for dental application enables oil-free compression, to decrease noise, the motor quality is key. If you select the cabinet option, the noise will be lower than 43dB, providing a more enjoyable environment for both the dental staff and the patient.
Specifications:
Compressor with dryer
Model: AC1500-air
Voltage:: 220/50Hz
Power: 1500W
Max pressure : 8 BAR
Rated Speed: 1450R/min
TANK: 50L
Air flow Capacity(L/min at 0 bar): 203L/min
Product dimensions: 410*410*550mm
Product Weight: 24kg
Packing Weight: 30kg
Details:
*With a big fan for faster cooling, even to the motor
*All tubes metal and good quality
*2 output, which supplies the air smoothly
*Big copper radiator
*With 3 wheels for moving
Welcome to visit youtube for more details:
Lingchen Dental
Guangzhou, China
---
Next:
---
Write your message here and send it to us