Dental Simulator Version III Electric Simulation Center
Product Detail
Product Tags
Creating Excellent Dental Training Rooms
We specialize in producing high-quality dental equipment, including dental chairs, simulation teaching systems, microscopes, and autoclaves. Additionally, we provide services for equipment installation blueprint design, ensuring the perfect implementation of wireless installation locations and drainage. We have successfully collaborated on over 100 classroom projects, spanning across more than 20 countries, to create the best training environment for students.
Why choose Lingchen Dental:
With 13 years of experience in dental equipment production and export, we provide an one-stop service for dental schools, including the supply of dental equipment, installation design for classroom spaces, online checking of the producing, logistics services, and after-sales engineer training. 
Our Dental Simulation System SS03 Projet: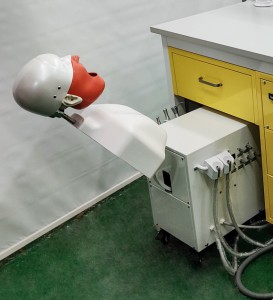 Dental simulator III Design and Function:
Full Electric control for phantom head, more easier for students;
Dental simulator Design:
Cabinet with 3 layers to allow students put jaw model, his tools etc
students can keep their handpieces and instruments in individually configurable cabinets. These can as required, include drawers and/or cupboards. The drawers and doors are lockable, and drawers with auto track.
Dental simulator- with 3 big drawers, and it is designed to be used as lab bench., 1 table 2 usage, for multi functional usage.  The working table surface fireproof, more safety.
Dental simulator- the turbine box internal- focus on high standard spare part and good regulation from all tubes, cables and valves. 
Include: strong and weak suction, 3 way syringe, hight speed handpiece tube and low speed handpiece tube and multi function foot pedal.
Options: 1. High speed turbine; 2. Low speed handpiece; 3. Can install one central compressor which cover 20 portable units.
Details:
Consist of the following:
1. Electric control movement phantom head: 1set
2. Portable unit with compressor: 1set
3. High speed turbine tube: 1set
4. Low speed handpiece tube: 1set
5. Three way syringe: 1set
6. Foot switch: 1set
7. Operating light: 1set
8. Metal workbench: 1set
9. Built- in power plug: 1set
10. Dentist stool: 1set
11Electric control panel: 1 full set

A1: No, customer self- provided.
A2: Yes, we will offer 1 set of jaw set with the phantom head.
A3: Magnet and screw, both possible.
A4: Yes, not only kavo type, but also frasaco and nissin type jaw set, can be put into the phantom head.
A5: With screw. And you can buy extra teeth for the jaw.
A5: There is weak suction in the the machine.
---
---
Write your message here and send it to us