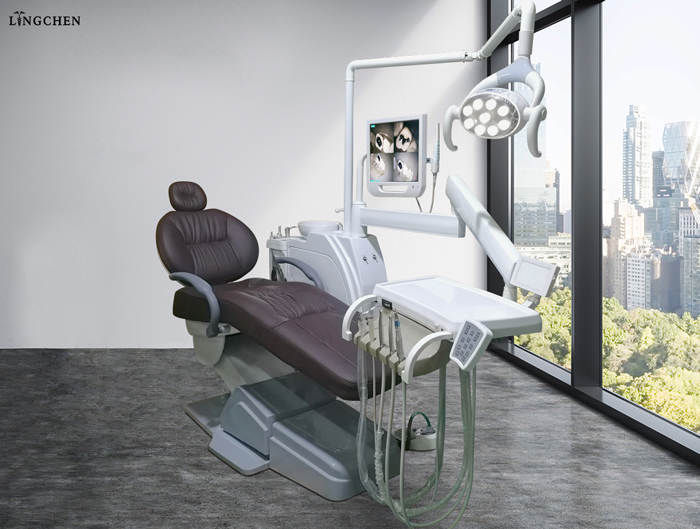 As one manufacturer of dental chair, How to protect the dentist while he treat the patient? His back, eyes, and legs even while he is working, his hands easy to reach the operation tray? To explain the details, today we will share Tao900 dental chair, our Queen chair.
Let us see, this chair can hold long people and heavy weight people.
2.2 meter can cover all style people, big metal frame with heavy weight for all the metal, and the plastic can resist heavy weight and long using also.
We design 2 bottle for distiller water, dentist can continue their working.
We design the light to let dentist use it for many things: filling use yellow, normal working use white ; when we take shade teeth color we used mixed light.We give the unique design for this model and we have patent for this. Also this focus light, internal light is peaceful, focus without sparkle, which let dentist feel rest even after long time working.
Wireless foot pedal, this let dentist feet feel total comfortable and his left knee keeps healthy. As we knew dentist keep using from his right leg, wireless foot pedal let him liberate from this limitation.
We design unit box so big, to let maintenance easy and everything regulated well. This model can add x ray and microscope as option, this design can accept this adding, can install PC camera as option.
All the inside tube and electrical things regulated.
All the valves inside its copper and stainless steel.
While the tube we use so high quality, dentist work with this chair surely will improve and protect his health, meantime let the patient comfortable.
The marketing team surveys different markets around the world, collects feedback on customer needs, thinks about problems from different perspectives of dentists and patients, and feeds back to the technical department for humanized design and transformation of products, and continuous improvement and innovation.
Moving together with the dentist's needs, Lingchen work for more support to dentist.
Nice sharing with you. Thank you.
---
Post time: Mar-02-2022