Maybe dentists and clinics all over the world are facing these headaches.
The clinic is full of various equipment, making it difficult for dentists and assistants to move.
The noise of the suction device often brings bad experience, including patients and dentists, so that patients give bad evaluations to the clinic.
Especially for dentists, long- term noise can interfere with life and work and damage hearing.
40 decibels is a normal environmental sound, and it is generally regarded as a hygienic standard for noise.
Above this is harmful noise, noise of about 50 decibels will affect rest and sleep, noise of more than 70 decibels can upset people, lack of concentration, and noise of more than 90 decibels can damage hearing.
That's why we developed this electric suction. For the health of dentists, give patients a good service experience and save clinic space.
An improvement on the structure of suction, from traditional one which is driven by air to built in electric suction. Testing data shows the suction power reach 1200ml/ min with the pressure is 400kPa ( Data from Lingchen testing report MZ18060001 CFDA). Comparing with traditional suction which will suck the meat of the patient mouth, electric suction avoid this completely.
Details comparison between Lingchen built in electric suction and market suction pump, considering the size of clinic is limited, built in type matching with dentist needs more in standard situation. The map as below is for more reference.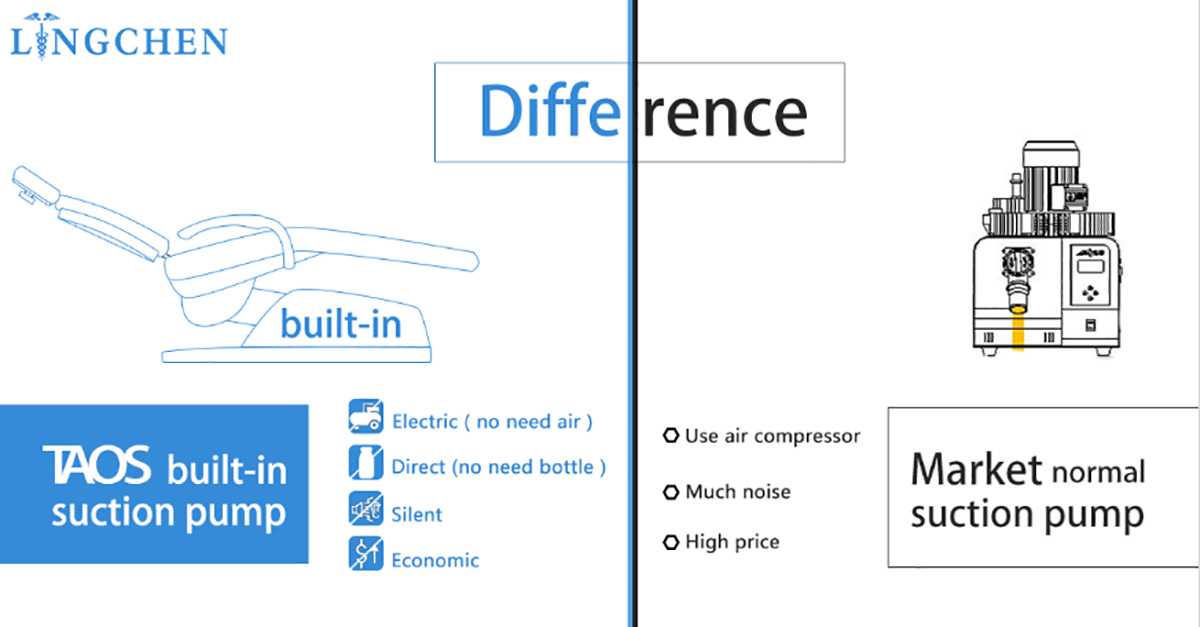 1.Efficient suction, driven by electric, donnot take the air from air compressor.
2.Direct using, traditional portable suction need bottle additionally.
3.Strong Power
motor with protection leve as drive, accomplish turbine circulation suction power,lower noise, higher pressure,larger flowing. Offer the constant suction power for treatment.
4.Economic
Combining dental chair and suction together, to save the cost and clinic space together, to improve the dentist work efficiently.
After this passing CFDA, Lingchen Built in electric suction start to enter the market in more than 60 countries, with the developing and improving annually, version II will be born in coming time.
If you wish to see the Lingchen Dental Chair unit-Built in electric suction.

In action welcome to check out our YouTube link:
---
Post time: Sep-07-2021