King Dental chair unit TAOS1800 touch screen control strong chair
Product Detail
Product Tags
Why choose Lingchen Dental:
With 13 years of experience in dental equipment production and export, we provide an one-stop service for dental schools, including the supply of dental equipment, installation design for classroom spaces, online checking of the producing, logistics services, and after-sales engineer training. 
It developed by LINGCHEN five years ago, revolutionizes the workflow for dentists and extends the working life of the compressor.
Unlike traditional systems that rely on the compressor for air supply, our electric suction system operates independently, allowing the handpiece, 3-way syringe, and air suction to work seamlessly together. This breakthrough improves the efficiency of dental procedures, enhancing the dentist's productivity and patient experience.
Additionally, the electric suction system reduces the strain on the compressor by eliminating the need for excessive air supply. This prolongs the compressor's lifespan and optimizes its working time, providing long-term cost savings for your practice.
With our Vacuum Cleaning Tube System, debris is efficiently pushed out of the drainage tube, effectively preventing blockages and maintaining optimal functionality. By removing stagnant debris, unpleasant odors are eliminated, leaving your clinic with fresh air.
Provide a comfortable and inviting atmosphere for your patients while maintaining a hygienic workspace for your dental team.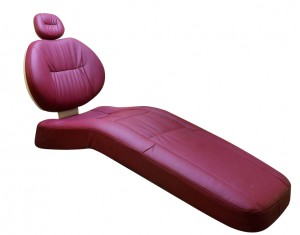 Long Cushion ,designed with the needs of strong and tall patients in mind. The spacious 2.2-meter cushion, made from microfiber leather.
Equipped with a double-articulated headrest and a comfortable seat, provides adjustable height options ranging from 380mm to 800mm. Accommodating patients of various heights and body types.
Especially suitable for elderly individuals, pregnant women, and patients with limited mobility. It ensures their comfort and safety during dental treatments, providing a positive and inclusive experience for all.
Each distance has been meticulously calculated by our scientific approach, ensuring an ergonomic position for dental professionals during treatments.
By maintaining the optimal working distance, you can work comfortably and efficiently, reducing strain and promoting better posture. Our dental chair is designed to support your well-being and enhance your overall work experience.
It is equipped with Touch Control System, allowing you control the movement of the entire chair. With just a touch, you have complete command over the chair's various functions and positions.
Experience the convenience and ease of our Touch Control System as you navigate through chair adjustments, reclining positions, and other settings. It streamlines your workflow and saves valuable time during dental procedures.
New Water Distiller Bottle, designed for effortless water replenishment and easy access to water for dental handpieces.
With its user-friendly design, adding water to the distiller bottle is a breeze. Simply and quickly refill the bottle, ensuring a continuous supply of distilled water for your dental procedures.
A sturdy metal frame with a significant thickness, ensuring durability and stability. The robust metal construction allows the chair to support a weight capacity of up to 180 kg, providing a reliable and secure seating option for patients of varying sizes.
High-quality motor that operates quietly, ensuring a peaceful treatment environment. The motor's smooth start and stop functionality ensures gentle and seamless patient positioning, contributing to a comfortable treatment experience,enhancing patient relaxation and satisfaction during dental procedures.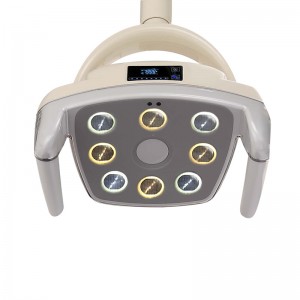 Operation LED Lamp with Sensor.It offers adjustable light intensity and three different modes to choose from: Yellow, White, and Yellow + White.
The intensity of the light can be easily adjusted to suit your specific needs, ensuring optimal visibility during treatments. The three modes provide flexibility and versatility, allowing you to select the lighting that best suits each procedure.
In particular, the Yellow mode is specifically designed for composite filling procedures. Its specialized yellow light helps enhance visibility and accuracy during composite filling time, ensuring precise results.
Optional:
Air Compressor, built- in LED scaler, oral camera with screen, curing light, dental handpieces.
| | |
| --- | --- |
| Rated Voltage | AC220V- 230V/ AC 110-120V, 50Hz/ 60Hz |
| Water pressure | 2.0- 4.0 bar |
| Water Flow | ≧ 10L/ min |
| Air Consumption | Dry & Wet Suction ≧ 55L / min (5.5- 8.0bar) |
| Water Consumption | Air Negative Pressure ≧ 55L/ min |
| Patient Chair Carry Capacity | 180KG |
| Base height range | Low point: 343mm Hight point 800mm |
| Headrest | Dual- articulating gliding headrest; lever release |
| Input Power  | 1100VA |
| Chair control | Delivery system touchpad or foot switch |
| Upholstery options | Microfiber leather or PU |
---
---
Write your message here and send it to us