Dental air compressor powerful silent high capacity
Product Detail
Product Tags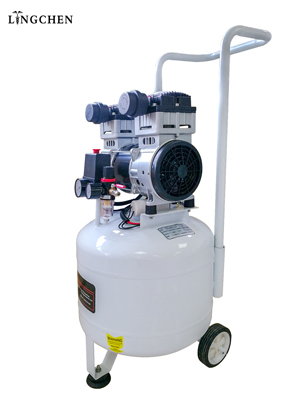 With its impressive 1100W motor, our dental compressor is built for efficiency, boosting your work productivity. The powerful motor ensures faster air compression and quicker recovery times, allowing you to handle more patients with ease. Say goodbye to delays and interruptions in your dental procedures as our compressor ensures a seamless workflow.
The ample 40L capacity of our compressor is designed to meet the air requirements of your dental tools and equipment. It provides a steady and uninterrupted air supply, even when operating multiple dental chairs or using air-driven instruments simultaneously. Rest assured, our compressor can handle the demand, ensuring a reliable and consistent airflow throughout your procedures.
Our dental compressor is backed by happy customers who have experienced its exceptional quality. With positive feedback and testimonials, it has earned a reputation for durability and longevity. You can rely on our compressor to withstand the demands of your dental practice and provide consistent performance year after year.
Achieving optimal air pressure is crucial in dental treatments, and our compressor excels in this aspect. It delivers precise control over the air pressure, enabling you to perform delicate dental surgeries with confidence and use air-driven handpieces with precision. The consistent and controlled airflow enhances the overall quality of your treatments, ensuring excellent outcomes for your patients.
To support the long-term maintenance of your compressor, we offer a range of accessories available for purchase. These accessories are specifically designed to optimize performance and ensure the longevity of your compressor. By investing in our accessories, you can maintain the reliability and efficiency of your compressor, allowing you to focus on delivering exceptional dental care.
---
---
Write your message here and send it to us