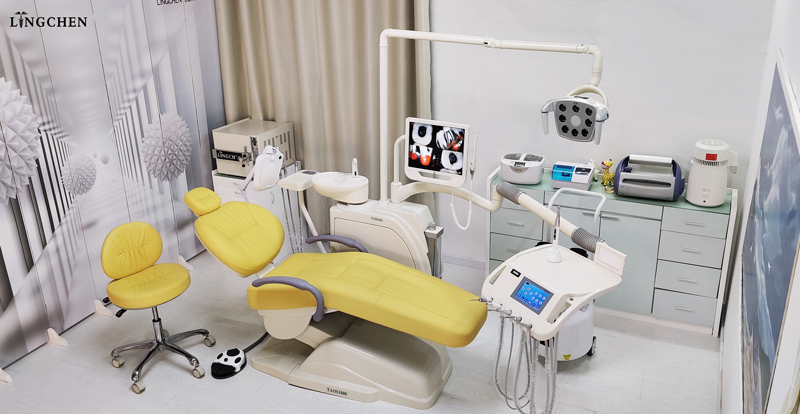 Today we share with you how to choose a good dental chair. The Quality, Function , Design, Correct working distance are the points which the dentists have to focus on it. We use Taos1800 dental chair as example.
First, we talk about the Quality, for Lingchen dental chair which is CE and ISO 13485 approval by TUV, all the spare part including motor, tubes, valves all are used from CLASS A quality.
Second, we talk about the function. For Lingchen dental chair, there is one unique function–build in electric suction. Dentist specially implantist need good suction tightly, there is portable suction style, built-in suction style, which is working by air, by water, or by electric. Traditional dental chair suction is worked by air or water, which is easy to use, but shortcoming is noisy, and power is so weak, which is not enough for dentist's working, specially for surgery, this forces the dentists to use the portable suction or install the vacuum pump.
Five years ago, LINGCHEN developed the electric suction, which is powerful, built in dental chair type, it is enough for surgery working, and it is drainage style, not need the assistant to change the bottle.
To compare with the vacuum pump, as it is with vacuum, while working the suction head easily to touch the meat from patient and painful.
Electrical suction working smoothly at the meanwhile power enough to cover dentist's all working, patient feel comfortable from it.
Also, we install the dental chair with full options, to make dentist's working much easier and improve his working efficiency, like: we install dental chair with build in led scaler, handpiece set, curing light, oral camera with the new LCD position, further more, for some model dental chair can be installed by build in microscope and build in x ray, we call it center clinic unit.
Third, we talk about the design, there is big and long cushion–2.2M, to cover all style of people, comfortable and make dental chair looks luxury. There is touch screen control system, make this dental chair modern design.
Forth: The Correct working distance, it is the most important things for dentist's health, the working distance from operation tray height and angle, the distance between assistant tray, the cuspidor all are calculated well. Working on this dental chair makes the dentists and patient both feel comfortable.
Welcome all dentists to contact us to further discuss.
Background for Lingchen dental:
Founded in 2009, manufacturing dental chairs and autoclaves in Guangzhou, China. Exported to more than 70 countries and with dealer in 20 countries and succeed to build our brand in Mid east and Latin America; Now we have 2 patents for kids chair design, 2 models center clinic unit with microscope and built in x-ray, 22 minutes autoclave. Keep developing the new items and creating more values to our customers is the key on Lingchen work.
---
Post time: May-09-2022