When it comes to dental education, practical training is vital for students to gain hands-on experience. However, for many colleges and training centers with limited budgets, finding an affordable yet effective dental simulation system can be a challenge. That's where Simulation II comes in as the perfect solution. This simple yet efficient system allows institutions to provide official practice sessions without breaking the bank. Let's explore the key features that make Simulation II an excellent choice for budget-conscious dental education providers.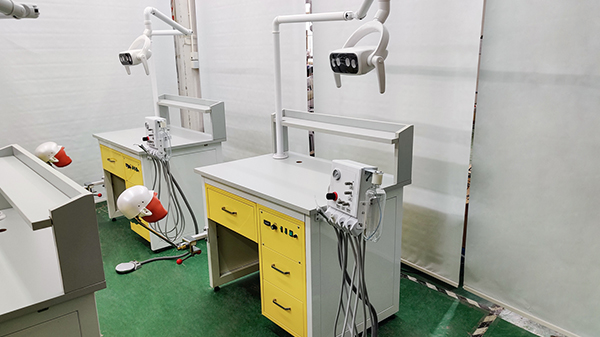 Simplicity and Official Practice:
Simulation II is designed to streamline the training process while ensuring official practice standards are met. It offers a user-friendly interface that allows students to easily navigate the system and complete their practice sessions with confidence. Despite its simplicity, Simulation II enables students to accomplish their training goals effectively.
Phantom Head with Standard Size:
The system features a phantom head with a standard size, providing a realistic training experience for students. The manual adjustment feature allows users to customize the setup according to their preferences, ensuring optimal comfort and learning.
Portable Turbine Box:
Simulation II includes a portable turbine box that houses essential components. This compact unit comprises a suction system, a handpiece tube, and a 3-way syringe, offering a comprehensive set of tools for dental procedures. The portability of the turbine box enables flexibility in moving the simulation system to different classrooms or training areas, enhancing convenience for both instructors and students.
Cost-effective Solution:
With Simulation II, institutions can maximize their budget without compromising on quality. The system is specifically designed to provide an affordable option for colleges and training centers. By investing in Simulation II, institutions can create a practical learning environment without straining their financial resources.
Simulation II emerges as an ideal dental simulation system for institutions operating under budgetary constraints. Its simplicity, combined with the ability to meet official practice requirements, makes it an excellent choice for colleges and training centers seeking to provide high-quality dental education. With features like the adjustable phantom head, portable turbine box, and cost-effectiveness, Simulation II enables institutions to optimize their training programs without compromising on the educational experience. Invest in Simulation II and unlock the potential of your dental training while staying within budgetary limitations.
The mission of Lingchen Dental "To Make Dental Treatment Safer, more Efficient, more Convenient, and more Comfortable!"
---
Post time: Aug-18-2023