The Dental Portable Surgical Trolley with a 550w compressor is an innovative and practical tool designed to support dentists in providing effective dental treatments. This trolley cart incorporates a built-in electric suction with an air compressor, offering functions similar to a dental chair. Its compact size and portability make it a valuable asset, enabling dentists to provide convenient door-to-door dental treatments for patients. Moreover, students can utilize this equipment for practicing dental procedures at home. This article will explore the features and benefits of the Lingchen Dental Clinic Trolley Cart and its versatile applications in various settings, such as clinics, charities, hospitals, and the military.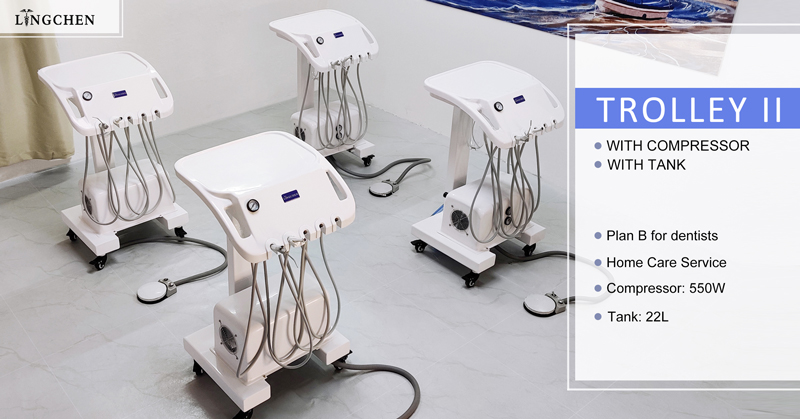 Operation Tray for Efficient Tool Management
The Lingchen dental clinic trolley cart boasts an operation tray with ample space to store and organize dental tools. Its design mirrors the operation tray of a dental chair, ensuring that dentists can follow their daily usage habits with ease. This thoughtful feature enhances productivity and streamlines dental procedures, enabling dental professionals to work efficiently.
Smart Design and Powerful Compressor
The dental trolley cart is equipped with a built-in compressor, simplifying its usability for dentists. With a 550w air compressor, this equipment provides ample power to deliver the necessary air supply for dental procedures. Moreover, the incorporation of big fans ensures efficient cooling of the motor, ensuring smooth operation during extended use.
Ergonomic Design for Enhanced Comfort
The ergonomic design of the dental clinic trolley cart offers superior comfort and support to dental practitioners. High-quality raw materials are used for constructing the handpiece tube, air tube, and water tube, guaranteeing durability and reliability. The handpiece tube's length is optimized to prevent contact with the floor while ensuring no interference with the wheels, facilitating seamless movement within the clinic.
Wide Range of Applications
The Lingchen dental clinic trolley cart finds extensive use in diverse settings, including dental clinics, charities, military bases, and hospitals. Its widespread adoption demonstrates its effectiveness in supporting various dental treatment scenarios and underserved communities across different countries.
Convenient Water and Air Control
The dental trolley cart is equipped with a simple foot pedal, allowing dentists to control the flow of water and air with ease during dental procedures. This intuitive feature enhances precision and efficiency during treatments, leading to better patient outcomes.
Flexible and Lockable Wheels
The qualified wheels of the dental clinic trolley cart offer flexibility and ease of movement, making it effortless to transport between different treatment rooms. Additionally, the lockable wheels provide stability and security when the cart needs to remain stationary, ensuring a safe and reliable working environment.
Customizable Options
The Lingchen dental clinic trolley cart offers various optional features, allowing dental professionals to tailor the equipment to their specific needs. These options include the addition of a goggle lamp or 4-eyes sensor lamp, a 22L tank, or the choice to operate without an air compressor.
In conclusion, the Dental Portable Surgical Trolley with a 550w compressor from Lingchen is an indispensable tool for dentists seeking an efficient and versatile solution for their dental practice. Its smart design, powerful compressor, ergonomic features, and customizable options make it a preferred choice for dental professionals worldwide. With its portability and multifunctionality, this trolley cart not only enhances dental treatments in clinics but also serves as a valuable learning tool for dental students. Moreover, its applications extend to charitable endeavors and healthcare facilities, making it an essential instrument in promoting oral health across diverse communities and regions.
---
Post time: Sep-12-2023